explore our range of luxury products
The highest quality, professional grade products tested and proven to TREAT your skin concerns.
Silk Space Clinic provides unique, results driven and personalised advanced skin treatments to boost your CONFIDENCE and leave you feeling as amazing on the outside as you are on the inside. We seek to target your concerns, enhance your natural features and provide an experience where you find that zen moment everyone deserves. We specialise in the treatment of acne, depigmentation and facial rejuvenation.
Introducing
Cutera Excel V+ LASer
The most advanced aesthetic laser technology available, combining two powerfully precise lasers to target and eliminate varying skin concerns from the face:
Diffused redness
Rosacea
Fine lines
Skin quality
Scars
Acne
Hyperpigmentation
Learn more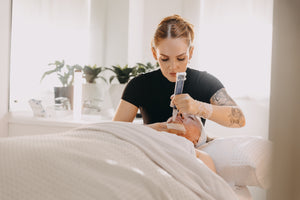 SKINPEN
Microneedling
Improve the appearance of fine lines and wrinkles, acne scars, pores and melasma with this powerful remodelling treatment.

Purchase a package to receive up to $350 off!
Learn More
Book Now
The Acne Program
Do you struggle with stubborn, severe or hormonal acne? Join us on a holistic treatment journey to ensure success in treating your acne and managing it long term.
learn more
Book now
Testimonials
Immensely grateful to Holly and the Silk and Space team for transforming my skin! The way they have worked with my acne prone, sensitive skin and helped reduce breakouts, flare ups and increased the hydration has been amazing for my skin and my own self confidence. My skin has affected me a lot and being able to proudly wear no makeup and reduce the stress of dealing with terrible skin has helped me so much on a personal level. So grateful for all their efforts with improving my skin and glad that I took the choice to invest in my skin!

Farah
Silk Space is the GOAT of skin clinics 😍 Both Holly and Fulvia are incredibly warm and welcoming always having a smile on their face. I personally see Fulvia and she has great chats, makes me feel comfortable and most importantly is extremely knowledgeable when it comes to skin which shows in her treatment plans and how she explains this to you as the treatment goes on. I have had INCREDIBLE results from my post-pill and pregnancy acne journey that I no longer plan on going on medication for it! And her massage is amazing, I fell asleep plenty of times 😂 The clinic is a beautiful homely space which I enjoy going to. I am a long term online supporter of the clinic prior to being able to go in and the advice and support I got from Holly prior to being able to go in was great.

Jess
I have only had the most incredible experiences with Holly & Fulvia. I always feel so comfortable, calm and safe - not to mention my skin has transformed tremendously. I had dark pigmentation and scarring from pimples, however now my skin is absolutely flawless. With the advice and care of Silk Space I feel SO confident and happy, and wouldn't trust anyone else with my skin! They provided a detailed skin consultation followed by treatments, a plan and skin care - and each step of the way I felt so educated, guided and asked so many questions, and was always provided the best advice.
Two of the most incredible humans providing incredible experiences, within an incredible business - I am more than impressed and I highly recommend!!! Xxx

Tammy
I have been seeing Holly for more than a year and I tell you she is the best out there and is an actual skin fairy god mother! She does what is best for you according to your skin's needs and not just there for the business of it. Love coming to Silk Space especially the new clinic. The vibe and the aesthetic make it a wonderful experience all together, plus the services are exceptional. Good chat with the ladies are just icing on top! Highly recommend Holly and Fulvia! ❤️

Vanessa
If I could give them more stars I would! Holly and Fulvia are absolute miracle workers 😍 I've been going to Silk Space at least once a month for 1.5 years and my skin has completely changed. My skin used to be an insecurity, but now I almost never wear make up! I've done peels, microneedling, and facials with both Fulvia and Holly and equally recommended them both. Additionally, they have helped me with a personalised daily skincare routine and go above and beyond by sending me info on products and foods to avoid for my acne prone skin. I would be lost without the girls at Silk Space 💖

Malika
I had my first consultation with Holly and it was an eye opener! Her treatment plan was detailed and she guided me to make some positive lifestyle changes. Also, she recommended some products. The lifestyle changes in addition to using the recommended products have helped my skin texture and lessen the frequency of active breakouts. Can't wait for my first peel :)

Lois
Holly has transformed my skin! Since coming off the pill I have been on a skin journey. after regular facials with Holly which does help, she recently encouraged me to invest in some clinical grade products and my skin has never been better! I will keep up with my daily skin routine + regular facials with Holly! Thank you Silk Space x

Hannah
Yesterday I received a 90 minute bespoke facial with Fulvia, WOW! The best facial I have ever had, the facial massage was amazing. Such a beautiful clinic - you can see how much effort was put into every single detail to give us a luxurious experience.10/10 recommend anyone looking for a high quality facial to give Silkspace a go!

Lauren
Ive been a client of Hollys for about 5-6 months and I am so grateful to have found her! Holly is super friendly and put so much time and effort into specializing facials and a routine for me to help with my acne/post-pill acne. I constantly get comments on how great my skin is looking since I started regular treatments and with the help of the plan she created for me at our first session. Highly recommend! x

Shanley
Our clinic
13a Shore Road
Remuera, Auckland
Entrance via Seaview Road
On-street parking available
Hours vary
Tuesdays & Thursdays, 9:00am-7:30pm
Wednesdays 1pm-8pm
Saturdays, 9am-3pm
Contact Us
Gift Vouchers
Help support your local business by buying a gift voucher.
Or, pamper someone you love with the gift of an experience.
shop gift vouchers